Creative Child Learning Center's Programs
Three different programs to choose from!

All Day Program
Full day (five to ten hours per day)
Includes Preschool with enrichment classes* and afternoon**
Two healthy snacks and a homemade nutritious lunch
Half Day Program
Up to five hours per day
One healthy snack (either morning or afternoon)
Choice of Preschool program with enrichment classes* followed by a nutritious homemade lunch or the lunch followed by the afternoon**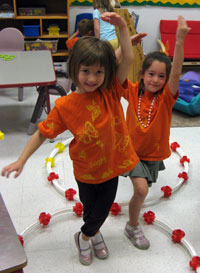 Preschool Program
8:45 AM to 11:30 AM
Includes Enrichment classes*
Every week your child will be able to explore a new theme through:
Early Literacy

Art

Math

Science

Music

Motor skills
Using developmentally appropriate practices to strengthen children's interests and knowledge.

Enrichment classes*
To enrich all of our students, we incorporate these classes in our weekly schedule:
Spanish – numbers, colors, foods, animals, simple phrases…

Sign Language – simple directions, colors, animals…

Yoga- calming, body control, following directions, flexibility

Musikgarten - singing, using instruments and scarves with interpretative movement
The days vary throughout the year so that all children are able to attend. Daily reinforcement of the concepts learned during these enrichment classes are included in our teachers' weekly planning.

Afternoon**
After lunch we have a two hour nap/rest time. The children rest in darkened rooms with soothing music to give everyone an opportunity to nap. After a half hour the children who have not fallen asleep are able to get up and play quiet games, do art activities, or work with a teacher. At 3:00, while the remaining children are waking up, we read a story. The children eat a healthy snack and then go outside (during inclement weather we use our large activity center) for climbing, biking, swinging, basketball, and grass games to develop large muscles and build coordination, teamwork and confidence. There is also the option to dig and build in our huge covered sandbox. The children also enjoy creating their own games and developing many friendships. Then we come back into the school to read a book, participate in music and art, and have free choice play while parents arrive.
Discounted rates apply when attending five days per week. All programs are a minimum of two days per week.
To see what our day looks like please visit A Day With Us page.